What is Plein Air?
Plein air painting is about leaving the four walls of your studio behind and experiencing painting and drawing in the landscape. The practice goes back for centuries but was truly made into an art form by the French Impressionists. Their desire to paint light and its changing, ephemeral qualities, coupled with the creation of transportable paint tubes and the box easel—the precursor to the plein air easels of today—allowed artists the freedom to paint "en plein air," which is the French expression for "in the open air." Read More…
2018 Kekionga 2nd Annual Paint Out 
Presented by the Fort Wayne Artists Guild and coinciding with the Taste of the Arts Festival and the Old Fort Miami's Reenactment, this event was a great opportunity to participate in a festival that draws more than 25,000 individuals to the arts campus in downtown Fort Wayne. Artists were encouraged to paint at the festival but were allowed to venture out into all of Fort Wayne and Allen County.
The piece above, created by Alan Larkin during the Paint Out, won an honorable mention in the final competition.
For more information about the Kekionga Paint Out, please visit: https://www.facebook.com/kekiongapleinairpaintout/
2018 First Brush of Fall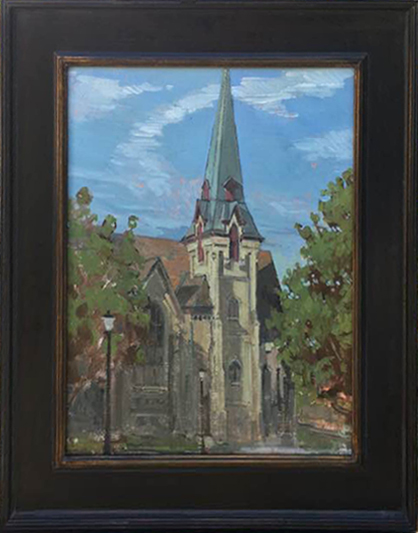 This event invited artists from around the region to converge on Michigan City and the surrounding areas with easels and paint brushes to compete for cash prizes in The Dunes Arts Foundation's first ever paint fair. Over the course of 3 days, artists created paintings in 90 minutes or less, as well as other works over the weekend.Prizes were awarded to the top artists at the end of the 3-day event.
The piece above, created by Alan Larkin during the First Brush of Fall event, won 3rd Place.
For more information about the Dunes Art Foundation or the First Brush of Fall, please visit: https://www.dunesartsfoundation.org/